1年前 · 1 分の読書時間 · visibility 0 ·
Rapid Increase in Military Use of Expanded Password System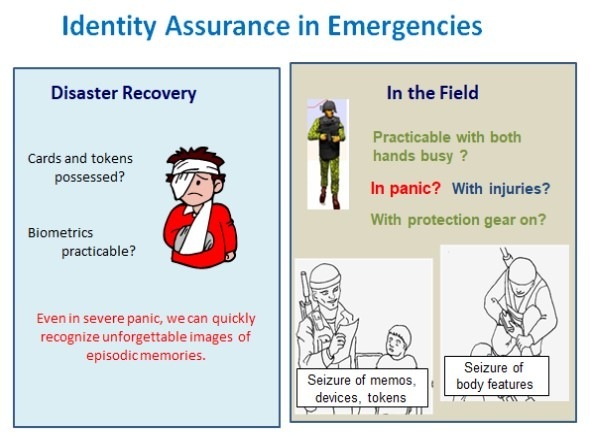 As for the versatile practicability of Expanded Password System, we now can refer to the trouble-free military use in the most demanding environment, with the users having increased 10-fold over the 7-year period from 2013 to 2020 and predicted to increase further; Images of toys, dolls, dogs and cats, for example, that our children used to love for years would jump into our eye even when we are placed in heavy pressure and caught in severe panic.
What is practicable in the most demanding environment for the most demanding application can be easily practiced in everyday environments for everyday applications; the reverse is not true, though.
Such an authentication system that copes with the panicky situations can be operated for all the everyday applications, too, as a stand-alone authenticator, as a factor of multi-factor schemes and as the master password of ID federation schemes.
The panic-proof feature of Expanded Password System is also discussed here – "Availability-First Approach"
With respect to this subject, I would like to refer to the proposition that we submitted to Armed Forces Communications and Electronics Association (AFCEA).
AFCEA called for propositions for '2020 Solution Review Problem Sets' which was intended to answer to U.S. Army Chief Information Officer who is seeking solutions to emerging or existing challenges.

We submitted an abstract of our proposition for Item #3 and were notified that our abstract is kept on-file as a backup and will be included in the compendium of the abstracts that is made available to CIO/G6 leadership. We are very pleased to see this positive development.
As mentioned in the abstract, our proposition is not a hypothesis, but is substantiated by the trouble-free military use in the field from 2013 till now with the number of users increasing 10-fold and set to continue to increase further.