2年前 · 1 分の読書時間 · visibility 0 ·
Help Us Avert Erosion of Security and Democracy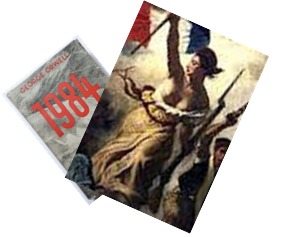 'Higher security achieved by removing passwords' and 'killing passwords by password-dependent biometrics and numbers-only passwords' are just false.
Those fallacies were generated, very regrettably, by reputed global big names in digital identity, presumably in hot pursuit of quick money. Many of the influential security professionals, who cannot be unaware of the facts, are staying silent on them, presumably in view of the collective recognition of enormous vested interests.
In view of the current state of digital identity world as such, you would hardly be surprised to hear that the advocates of valid solutions have had no choice but to go through a steep uphill battle. You might well have anticipated it,
This adverse situation is driving us to be more active on writing about the ingredients of 'steep uphill' against us, with further emphasis on 'impact on democracy', on such exceptionally steadfast and forward-looking media as quoted below.
InfoSec Buzz: Security, Democracy and Digital Identity
https://www.informationsecuritybuzz.com/articles/security-democracy-and-digital-identity/
ValueWalk: Digital Identity – Preventing Cyber Threats Coming From Within
https://www.valuewalk.com/2019/07/digital-identity-hack/
PaymentsJournal: Digital Identity – Follow Logic, Not Uncertain Reputation
https://www.paymentsjournal.com/digital-identity-follow-logic-not-uncertain-reputation/
PenTest Magazine: Threats to Digital Identity from Within
https://pentestmag.com/threats-to-digital-identity-from-within/
PenTest Magazine: Episodic Memory and Digital Identity
https://pentestmag.com/product/pentest-ddos-attacks-and-protection/
SC Magazine UK: The security effect of removing passwords
https://www.scmagazineuk.com/security-effect-removing-passwords/article/1590220
We know everyone is grumbling that the current digital identity platforms are neither secure nor convenient, and crying for something new that is really valid. We would appreciate your thoughts and ideas for helping us go through the uphill battle quickly and powerfully, averting the erosion of security and democracy that is ironically coming from within.
< Related Posts >
'Removal ofPasswords and Its Security Effect'   - Assuming that the password has been removed, digital identity platforms would have only two authenticators - physical tokens and biometrics. What consequences would we see?
'Follow Logic, NotUncertain Reputation'  - Logical examination leads us to conclude that the real question is simply how to provide both 'text passwords' and 'non-text passwords' on a platform.
'Digital Identity- Threats Coming from Within'  - Grave threats are coming from a large section of the cyber technology industry, say, from within.
'Digital Identity– Threats Coming from Within (2)'  - Influential security professionals are silent although they cannot be unaware of the threats.
'Entertaining Security Topics' - Satirical presentation of the big myths in digital identity.
#identity #authentication #password #security #safety #ethic #privacy #civilrights #democracy #biometrics