2年前 · 1 分の読書時間 · visibility 0 ·
Digital Lemming's Congested Competition for Bestseller Snakeoil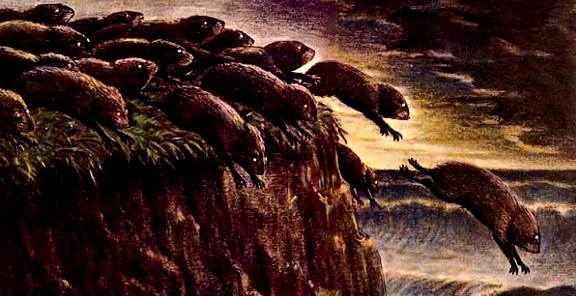 Allegorical Image
'Too many players' does not mean 'too many competitions'.
Assume that you have noticed there is a huge cluster of lemmings loud-voiced and trendily dressed-up. From within, it looks like the lemmings in the cluster are boastingly competing with each other for bestselling snakeoil like arsenic and mercury as tonic, some calling for baby lemming sacrifices as the best medicine.
From the low sky, you witness that a tiny group of nondescript lemmings are trying to get out of the cluster of noisy lemmings. These lemmings are apparently refusing snakeoil.
From the high sky, you witness that the tiny group is moving towards the place where billions of lemmings are waiting for something to fight bad diseases with, while the bigger group is inching towards a deep cliff.
Would you reckon that the tiny group is in competition with the large cluster?
< Related Articles >

What Our Remembrance Brings for Identity Assurance
* Putting a fifth wheel on a coach, competition is seen between 'helpful' and 'useful'. What is seen between 'helpful' and 'harmful' is not competition.
< Appendix - Topic of The Day >
 - Biometric data breach could link your face to illegal activities -    "It followed revelations on Wednesday (Aug 14) that millions of pieces of personal biometric data may have leaked from a popular security service."
This Straits Times report seems to indicate that so many people and organizations working for privacy are putting forward their discussions on an (apparently misguided) assumption that biometrics is good for security but it is a threat to privacy.
What if they started from another assumption that biometrics is no good for security and it is a threat to privacy?
#identity #authentication #password #security #safety #ethic #privacy #civilrights #democracy #biometrics