1年前 · 1 分の読書時間 · visibility 0 ·
Biometrics and Me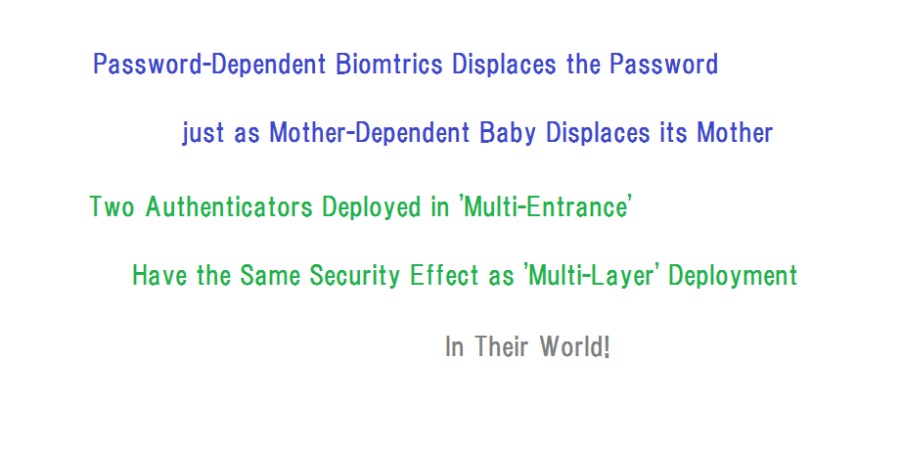 It was on the website of a globally famous electronics manufacturer I visited in 2001 that I first noticed this awkward phenomenon.
They alleged that their face biometrics was going to kill the password altogether from identity authentication. It immediately occurred to me what we could do when the system failed to recognize us.
I quickly started to search for an answer on their website and found a brief statement in a Q&A corner "Don't worry if you are not recognized. You can get logged in by feeding the password that you had registered earlier".
The second encounter came a few months later at a security conference where another global brand hung a poster reading "Farewell to Password by Fingerprints". I asked an attendant "What can we do when rejected by the fingerprints sensor?", to which he replied "Don't worry. You can rescue yourself if you feed the password that had been registered earlier". I raised the next question "Then, how would it be possible for you to allege "Farewell to Password by Fingerprints? The attendant turned silent and never opened his mouth again. I gave up and left there.
It has been as such since 2001 and still is. Below is my personal conjecture backed up by my personal experience such as above.
At the early days, they were probably just ignorant of the security-lowering effect of biometrics used with a fallback password, presumably because they were indifferent to and unaware of the opposite security effect of two authenticators used together in a security-enhancing 'multi-layer' deployment and in a security-lowering 'multi-entrance' deployment.
Nowadays, there are so many people using the biometrics believing that they are protected by higher security, it would be natural if they mutter to themselves "It is just too inconvenient and embarrassing to admit the fact".
I am personally of the view that their greed to make quick money by jumping on a band wagon may well have driven them to opt to NOT notice these problems, choosing to keep turning a blind eye, cover their ear and close their month.
I have never been logically refuted since 2001.
< Related Articles and Video >
Hey, Biometrics Guys! Get Provoked!
 Publication on EDPACS of Taylor & Francis
Video Biometrics in Cyber Space - "below-one" factor authentication
#identity #authentication #password #security #safety #biometrics #ethic #privacy #civilrights #democracy